Spaces That Reflect Your Lifestyle
1st Choice Cabinetry offers start-to-finish service, which means our staff will help you through every step of the process. Whether you have specific ideas or need inspiration, we'll work hard to ensure your project turns out perfectly. You are the expert of your own individual style; we are cabinetry design experts. Your space should reflect your lifestyle and taste. Whether it's your home, office, kitchen or bath, you can enjoy a custom-created lifestyle. With over a dozen detail-oriented designers ready-and-able to realize the chic living space of your dreams to complete installation, 1st Choice Cabinetry is a comprehensive kitchen and home design studio that focuses on building relationships and delivering outstanding results. To live a more eco-conscious lifestyle, customers can choose to install eco-friendly counter surfaces, such as concrete, quartz, bamboo and paper resin. Further proving our commitment to promoting sustainability, most of our cabinets are certified under the KCMA Environmental Stewardship Program as "green".
Custom Cabinets
At 1st Choice Cabinetry, we want to make your kitchen or bathroom dream a reality! That includes creating custom cabinets that fit your room to the "T". Our team will work with you to create your dream space! From measurements to concepts, 1st Choice Cabinetry serves clients from Charlotte to Raleigh to the NC Coast. Contact us today to get the ball rolling on your custom design in Raleigh or Charlotte at (919) 836-8361.
At 1st Choice Cabinetry we are focused on providing you best value at your given budget. While most of our kitchens on this site look expensive, it is not always the case. The designers here at 1st Choice Cabinetry are thoroughly knowledgeable in space management and storage solutions and have a complete understanding of what makes a kitchen design unique.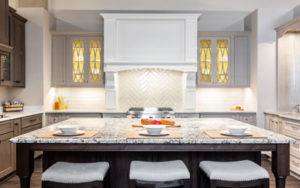 A good design team coupled with great products and an experienced construction staff knows how minor inexpensive changes can make a project special. Consider it, with all of the choices out there for materials and design, wouldn't you want some professional and thoughtful assistance to help make your project the best it could be? 1st Choice Cabinetry is regarded as a top kitchen design firm because we originate designs based upon your needs as a client. We have the talent to help you complete a successful remodel project or New Construction project. Anywhere there is a need for cabinets in the home or office, we provide professional design, selection, and installation.
Kitchen
Bathroom
Laundry Room
Library
Media Center
Built-Ins in any room
We make the process of designing and installing new cabinetry solutions EASY, AFFORDABLE AND FUN! Contact a member of our design team to discuss placing cabinetry in any room.